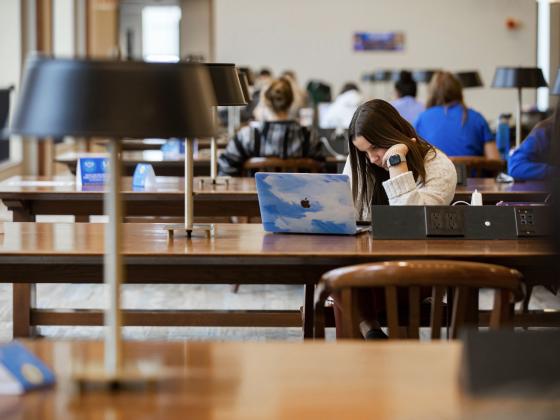 The most important question we try to answer every day at the University of Kentucky is this: How do we make student success integral to everything that we do?
Whether it's designing a new curriculum that emphasizes creativity and critical thinking skills, or constructing living and learning facilities that foster a safe and welcoming community, our focus at UK must always center on students and their success. That focus, of course, extends to the spaces in which they learn. 
Academic facilities represent an important cornerstone of UK's campus transformation. 
J. David Rosenberg College of Law
In November 2019, the University of Kentucky reopened its Law Building after a two year, $56 million renovation and expansion. A number of generous donations from UK Alumni contributed to the project, including a historical $20 million gift to the College of Law from alumnus J. David Rosenberg and his wife, Dianne. 
Located on South Limestone with its main entrance facing the center of campus, the building's façade consists of large windows that flood the interior with natural light. In addition, each floor is interspersed with built-in alcoves and common areas designed to facilitate collaboration.
Additional features of the renovated Law Building include:
A new main entrance with a two-story portico.
The modernized 185-seat G. Chad Perry III '51 Grand Courtroom for oral argument training, live court proceedings, lectures and conferences.
A new small moot courtroom for litigation training.
Eleven new classrooms.
High-tech enhancements to all study spaces and classrooms.
The Stites and Harbison PLLC Commons on the second floor, adjacent to Common Grounds coffeeshop.
The Honorable William S. Cooper '70 Classrooms — three medium classrooms that can be converted into one large multipurpose room — on the third floor.
A central location for all administrators and student support staff on the first floor in the Jo McCown Ferguson Dean's Administration Suite, which was named in conjunction with a gift from UK Trustee Emeritus C.M. "Bill" Gatton.
Two terraces — one on the second floor and another on the third floor.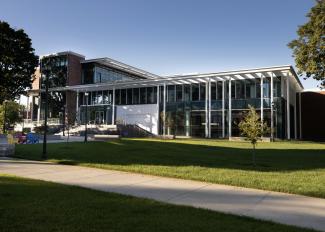 Gatton College of Business and Economics
The renovated Gatton College of Business and Economics building was officially dedicated on October 7, 2016. This $65 million renovation and expansion has resulted in one of the finest business facilities in the country with high-tech classrooms, a simulated trading floor and places for our campus to congregate and exchange ideas.
At the start of the project, the Gatton College was serving a total of 2,800 students. The new facility allows the college to serve nearly 4,000. Some highlights of the new facility are listed below:
The footprint of the college expands by 40 percent to 210,000 square feet
The 500-seat Kincaid Auditorium designed for special events and large lectures
The new Seale Finance Learning Center which includes an advanced classroom with a simulated trading environment featuring digital displays feeding real-time financial and market information
Twenty new classrooms, including 10 45-seat classrooms; six 85-seat classrooms; three 70-seat classrooms; and one 65-seat classroom
Forty-two collaborative study or breakout rooms
The Woodward Special Events Hall with audio-visual components to accommodate dinners and lectures seating anywhere from 75-200 people
The Don and Cathy Jacobs Executive Education Center, serving as the center for the college's outreach to the business community
An outdoor garden plaza, serving as a gathering place for students, faculty and staff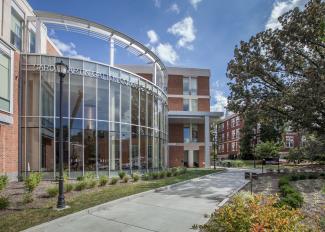 Jacobs Science Building
The Jacobs Science Building (JSB) opened in Fall 2016 and is home to the largest active learning space on campus, where students have the opportunity to experience and engage with science. JSB was designed to emphasize environmental responsibility, utilizing natural light, outdoor teaching areas and rainwater recycling.
But the value of JSB's design extends far beyond its construction — the innovative lecture halls and classrooms inside helps the College of Arts and Sciences realize its vision of improving science education through exciting new models of engaged in-class teaching. The teaching space in JSB is composed of next-generation lecture halls and groundbreaking TEAL (technology enabled active learning) classrooms. 
Components of JSB include: 
Premier interdisciplinary undergraduate science teaching labs and classrooms
Student oriented, open environment that encourages interaction and collaboration beyond the classroom
Cutting edge learning environments to carry out contemporary science teaching methods and collaborative student learning
Student commons space, group and individual study rooms and other amenities
Modern research laboratories
Shelled floor space
This new building houses most of the introductory science laboratory courses allowing students to learn the commonalities of multiple science disciplines in an interdisciplinary fashion and begin modeling "team problem-solving." It was made possible through a $65 million gift from UK Athletics and a generous $10 million gift from the Jacobs family.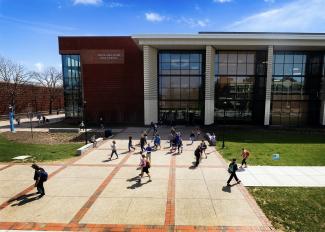 Visual Arts and Studies on Bolivar Street
The College of Fine Arts' School of Art and Visual Studies moved into its new home on Bolivar Street in September 2015. This space is a 21st century research laboratory that fosters collaborative, interdisciplinary projects, with student and faculty studios housed close together. In the last several years, due to significant structural problems and limitations on teaching during summer months in the aging former warehouse, the college and university began looking for a solution that would not only meet the needs of the institution's students, faculty and staff, but would also save money in necessary renovations to Reynolds Building No. 1. UK proposed and was given state approval to purchase and convert the University Lofts property for the school.
The end product, housed in a historic tobacco processing plant, is a game changer. The UK Art and Visual Studies Building is more than 20,000 square feet larger than the school's former home in Reynolds and features not only traditional artist studios and instructional spaces, but several other amentities, including:
Five digital media labs
A multipurpose 3D fabrication lab
A photography suite
A ceramics facility
A print media shop
A wood shop
Drawing, painting and foundation design workshops
These advances will allow the school to ramp up digital pedagogy by offering new courses and degrees in digital media and design, animation, new media and motion graphics.