Our budget reflects our momentum and our steadfast commitment to the success of our people and the future of our state.
Our ability to provide raises, to expand leave options, to keep tuition increases to the lowest levels in a generation, to reduce students' unmet financial need, and to expand efficiency and effectiveness is the result of the tireless work of so many people within the budget office and other areas in Finance and Administration, as well as in the Office of the Provost.
We begin a new fiscal year with a budget that embodies our community's distinctive characteristics: an unwavering commitment to service and support, as well as a fierce determination to expand what's possible for the University of Kentucky.
Budget Breakdown
The University of Kentucky's budget is comprised of three fund groups: general (designated & undesignated), auxiliary and restricted. Each fund group includes specific revenues, expenses, and transfers and is budgeted so that it has a zero balance: Revenues + Transfers In – Transfers-Out = Expenses.
Designated General Funds are received directly by the colleges and units that generate or earn the funds. The colleges and units use the funds in accordance with their missions and to maintain self-sustaining activities. 
Undesignated General Funds are received and managed centrally and the associated expenditure authority is allocated to the colleges and units as base support for education, research and creative work, and service. The budget decisions related to the university's educational and general activities are based on the availability of these undesignated funds.
Auxiliary Fund revenues are generated from the sale of goods and services to faculty, staff and students. Revenues are expected to cover the operating expenses of each auxiliary enterprise.
Restricted Funds are provided by governmental agencies, corporations, and private donors, these funds are accepted by the university with explicit restrictions imposed by the external entity. The primary sources of Restricted Funds are sponsored projects, such as grants and contracts, gifts that must be spent in support of a specific program, and federal and state student financial aid. As a steward of the funds, the university has a legal obligation to abide by the fund restrictions.
2021-2022
Budget Highlights
Our growth as an institution continues to be fueled, in large measure, by incredible advancements we continue to make as a health care and research enterprise — one squarely focused on addressing and solving some of our state's most intractable challenges.
To sustain that growth, as well as advancing our record-setting efforts to help even more students be successful, we must continue investing in our people: the students, faculty and staff who are called to make this institution a bright light of hope and progress. To that end, this budget:
Will hold tuition increases to 1 percent; the four- year average of annual tuition increases is now 1.7 percent, below the rate of inflation. We are also taking steps to increase stipends for our graduate students who contribute so much to our academic, research and health missions.
Will challenge our colleges to even more aggressively meet our aspirations to grow and help students succeed by investing $13.7 million in revenues based on their performance in meeting certain goals aligned with our most important priorities — educating and graduating more students, continuing to grow our research as well as creating and sustaining more diversity among our faculty ranks.
Will increase the minimum hourly rate for regular employees at the University of Kentucky from $12.50 to $13.75 on July 1 and then to $15 beginning January 1, 2022.
Will create new paid leave for staff employees to welcome a new child or care for an ill parent.
Will include a 2 percent merit increase, beginning January 1, 2022. And we will provide a one-time $1,000 payment for all regular faculty and staff (excluding UKHC which operates under a separate compensation plan). These payments recognize the outstanding efforts and sacrifices our people have made over the past year. I'm pleased that this represents the 9th pay increase for our employees during the last 11 years.
Will, as promised, restore the full employer retirement contribution rate of 10 percent on July 1.
The following charts indicate how funds are designated within the 21-22 budget. Click to enlarge.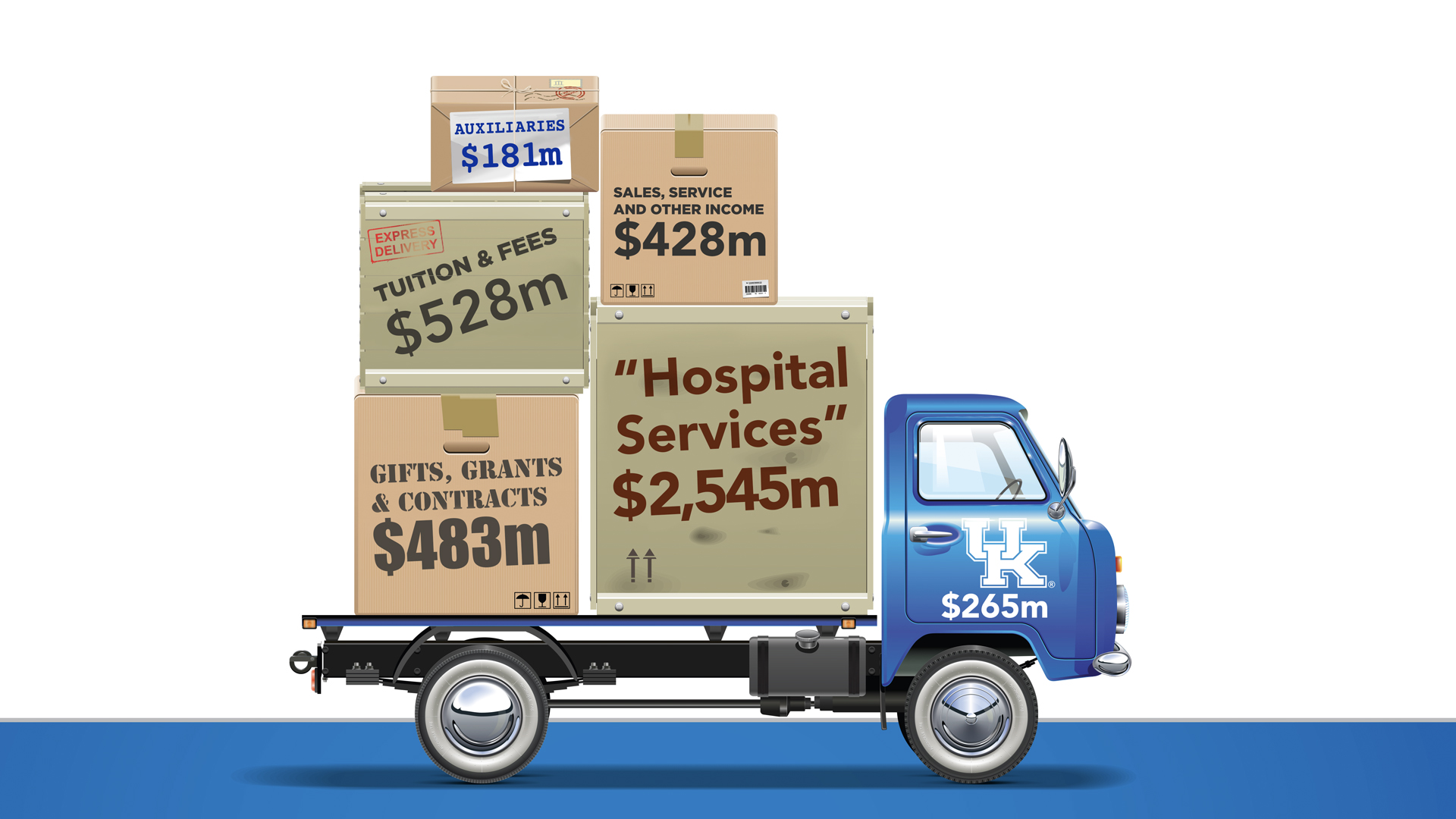 As the Commonwealth's land-grant university, the University of Kentucky receives $265 million in state appropriations. This investments represents the "first dollar in," fueling the institution's missions of education, research, service and health care. The state's investment is the engine that drives everything we do. Every other endeavor is only made possible by this funding UK receives from the state.