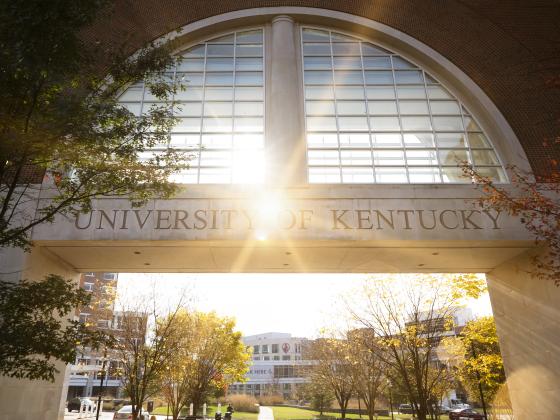 UK HealthCare continues to undergo an impressive physical transformation of the Lexington campus and beyond.
Shriner's Medical Hospital
Shriners Medical Center has operated in Lexington since 1926. Transitioning from the former location on Richmond Road, Shriners Medical Center occupies 60,000 square feet of space on the bottom three floors on the new facility on South Limestone. UK HealthCare leases the top two floors for ophthalmology services. The new Lexington Shriners Medical Center includes a motion analysis center, 20 patient exam rooms, two surgical suites, a rehabilitation gymnasium, prosthetics and orthotics department, therapy rooms, and interactive artwork. The energy-efficient building has geothermal heating and cooling, LED lighting and occupancy sensors, and automated equipment and controls.
UK HealthCare and Shriners Medical Center have forged a long-standing collaborative relationship through years of service to Kentucky's children. Pediatric specialists in the fields of orthopaedics, anesthesia and rehabilitation serve on the medical staff of both organizations.
Mark D. Birdwhistell, vice president for administration and external affairs at UK HealthCare, called the new facility a "win" for UK HealthCare, Shriners Medical Center and the Lexington community.
"The building we are dedicating today will allow us to collaborate in a whole new way — bringing together Shriners Medical Center's pediatric orthopaedic expertise and the Kentucky Children's Hospital's specialty and subspecialty care for children with complex conditions," Birdwhistell said at a dedication ceremony in May 2017.
UK Healthcare's expansion is centered around the idea that no Kentuckian should have to leave the Commonwealth to receive the highest quality of care. 
Pavilion A of Albert B. Chandler Hospital opened in 2011 with two complete patient floors, adult and pediatric emergency departments, and a 30,000-square-foot atrium

The 8th floor opened for cardiology patients in 2014

Final work on the 9th and 10th floors began in 2015, adding 128 beds dedicated to neurology and advanced technologies

In March 2015, the Board approved completion work for the 11th floor, which will house 64 patient beds

UK HealthCare at Turfland, an outpatient services center conveniently located on Harrodsburg Road in Lexington, opened in March 2015

A new six-story research building planned near South Limestone and Virginia Avenue will bring together scientists and physicians from multiple disciplines to address diseases – including cancer, heart disease, stroke and diabetes