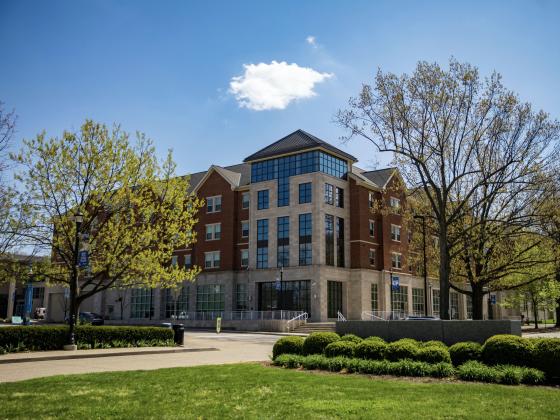 Four years, nearly $450 million, and more than 6,800 beds in 14 new state-of-the-art residence halls. Those are the astonishing numbers that encompass the University of Kentucky's revitalization of campus housing — the largest in all of higher education. The transformation concluded with the completion of two new residence halls — Lewis Hall and University Flats.
Lewis Hall, named after native Kentuckian and UK graduate Tom Lewis, is dedicated to the Lewis Honors College. With nearly 20,000 square feet of dedicated academic support space for the college, it includes four classrooms and over 30 offices. 
Lewis Hall is located in the center of campus — across from the William T. Young Library and adjacent to The 90. The hall houses 346 residents throughout five floors and boasts study rooms on each floor, three recreation rooms and a community kitchen. Students reside in two-bedroom suites, in which each student has his or her own private bedroom.
University Flats — just down the road from Lewis Hall — is home to 771 residents throughout seven floors. University Flats serves as upperclassmen and graduate student housing. The graduate wing of the residence hall consists of two room types — studio apartments and one-bedroom apartments for graduate and professional students. The undergraduate wing provides two-bedroom apartments and four-bedroom apartments.
University Flats also offers amenities such as study rooms on each floor, a four-season outdoor lounge and fireplace, as well as a sand volleyball court.
Since 2012, UK in partnership with EdR, has created a broad continuum of residence halls with high-tech classrooms and nearly 200 living and learning spaces that support student success and ensures its position as a national model for a thriving, public residential research university.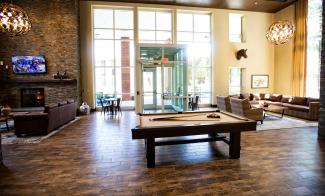 Phases
UK's Housing Transformation occurred in three phases. Over the course of four years, improvements were made across campus to ensure students are getting a top-notch residential experience at the university.